Dentures - Achieveing Perfection
Dentures are a custom fabricated piece of art. Dr. Faucette has had over 35 years of experience and expertise in providing the best quality, comfort and look that satisfies every patients desires.
Implant Supported Dentures
Implant supported dentures and partials provide the utmost stability and function. Dr. Faucette can create a "snap and lock " fit for your natural looking denture with implant support.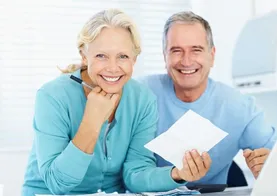 Partial Denture

A partial denture is the solution to replacing one or more natural missing teeth. The partial denture attaches to the existing natural teeth and provides a cosmetic and extremely functional appliance for those patients. Sometimes crowns are placed on natural teeth and serve as anchors for the denture. Partial dentures can offer a removable alternative to bridges.